7 Styles of Rose Gold Bridesmaid Dresses to go with Your Rose Gold Wedding Theme
7 Styles of Rose Gold Bridesmaid Dresses to go with Your Rose Gold Wedding Theme
Rose gold is one of the best colors for a wedding theme. It's romantic and elegant while still fun and glamourous. Rose gold reminds us of champagne, luxury, and love – all perfect elements to bring to a wedding. We really love rose gold as a wedding color because it's so versatile and goes with any season!
 Once you've decided on a rose gold wedding theme, you're going to need the perfect rose gold bridesmaid dresses and that's where SposaDresses comes in! We're your spot for thousands of gorgeous and cheap bridesmaid dresses.
Take a look at some of our favorite rose gold bridesmaid dresses:
 Style 1 – Mermaid Sequin Dresses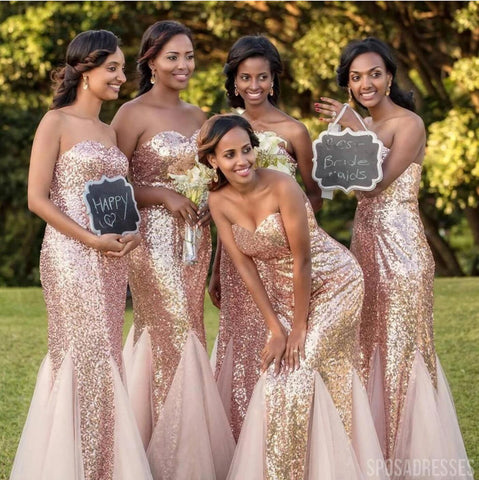 These dresses look like bottles of champagne come to life! Mermaid sequin dresses are flattering for any body type and we here at SposaDresses are more than happy to do custom sizes if you or one of your girls needs it.
Style 2 – Custom Sparkly Mismatched Dresses
Mismatched dresses are a great way for your bridesmaids to show off their individual personalities. They also allow for each bridesmaid to choose the dress that best fits their body shape and skin tone. This style of rose gold bridesmaid dress has five flattering designs with a mix of full sequin dresses and sequin/chiffon.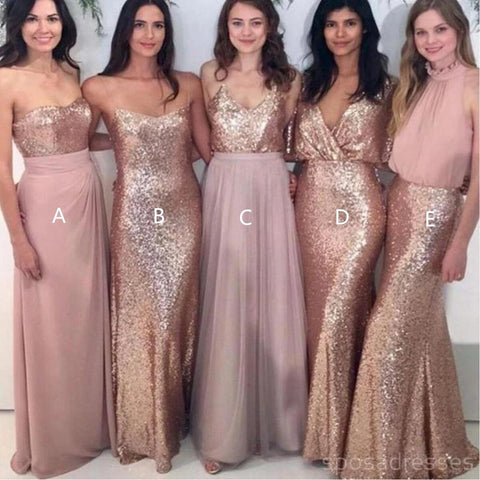 Style 3 – Mermaid V-Neck Sequin Gown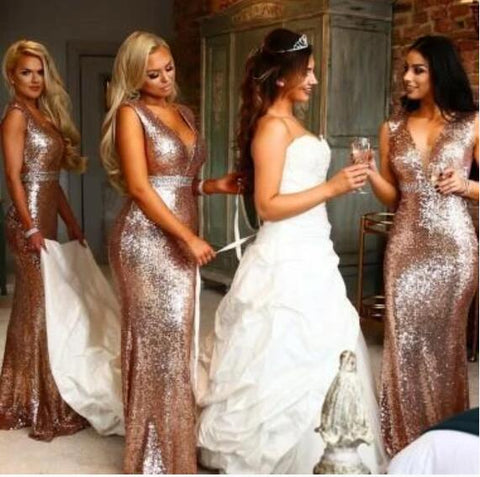 These gowns will have your bridesmaids looking like a walking party. The deep V-neck adds a bit of sex appeal to the dress without being inappropriate and the wide shoulders give it a unique shape. Don't worry – even though your girls will be stunning in these gowns, they'll never outshine the bride!
Style 4 – Strapless Sequin Dress
This style of rose gold bridesmaid dress is a bit on the lighter side so it would be perfect for a spring or summertime wedding! The strapless design is flirty and polished while the slight mermaid flare at the bottom of the gown bring an element of fun
Style 5 – Mismatched Strap/Strapless Sequin Dresses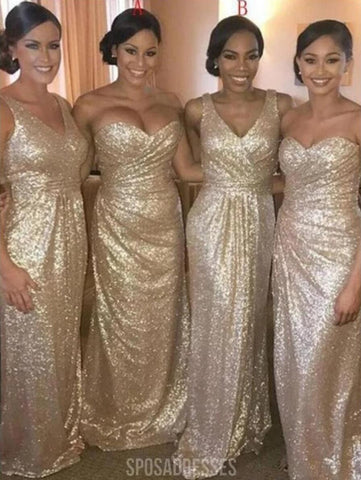 This combination of rose gold bridesmaid dresses is perfect if you have a few girls in your party that are a bit more conservative than the others. Each bridesmaid will have a floor-length sequin gown but will be able to choose: straps or no straps?
Style 6 – One Strap, Two Straps, or No Straps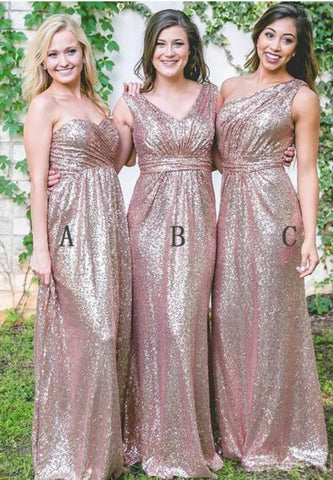 There's something for everyone with this option! Switching up the style of your bridesmaid straps can be just what you need to create some dynamic in your photos. From the waist down, these rose gold sequin dresses are the same. From the waist up, your girls can pick one of three strap styles!
Style 7 – Mismatched Sleeves Vs. Straps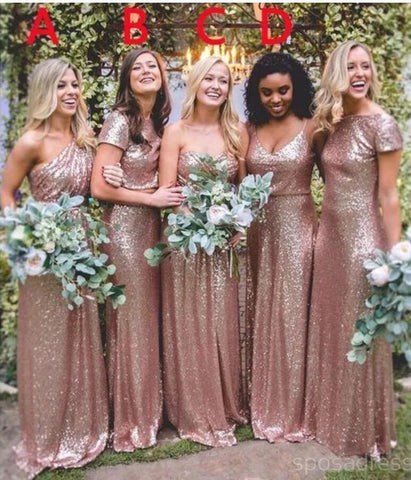 This gorgeous style of bridesmaid dresses has it all! One option for strapless, one for spaghetti strap, one shoulder strap, and a conservative sleeved option. Although they'll each have a different rose gold bridesmaid dress, your girls will all look stunning in these complementary styles!
Don't break the bank when it comes to your rose gold bridesmaid dresses. SposaDresses has the cheap bridesmaid dresses that you're looking for and your girls will love to wear!